Documentary Gets Global Release as Fundraiser on Janson Media's Youtube Channel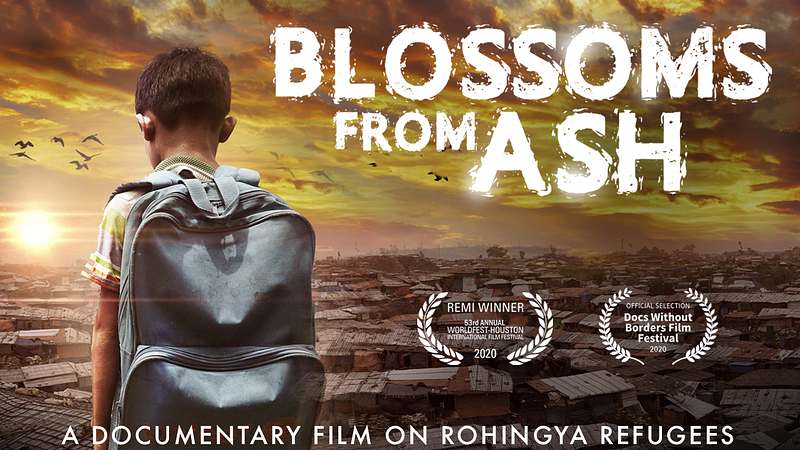 Janson Media today announced the worldwide release of Blossoms from Ash, the new documentary film from the Blum Family Foundation, producer Alex Blum and director Noman Robin.
The film is being released today on Janson Media's Youtube Channel to mark Giving Tuesday, as a fundraising event sponsored by the not-for-profit When We Band Together.
A stunning visual and narrative exploration of life in the world's largest refugee camp, Blossoms from Ash is a portrait of lives discarded for profit, enabled by hatred and religious persecution. It features historical accounts, an educational look at the origins of the past and current conflict, and eyewitness testimony from the refugee survivors of the Rohingya Genocide in Myanmar.
The film won the Special Jury Remi Award at Worldfest-Houston 2020.
"The purpose of Blossoms from Ash is to make the world aware of the Rohingya, the trials they have been through in their rightful homeland, and the challenges they face today. This film seeks to move audiences around the world to raise their collective voice about the crimes perpetrated by the government of Myanmar, and to pressure the governments protecting Myanmar from international action. Further, this documentary seeks to advance the efforts of the NGOs helping the Rohingya people, primarily by raising funds for improvements to the educational facilities serving the refugee children." - Alex Blum, Producer

The Dhaka Tribune said the film "chronicles the recent and previous history of the ongoing genocide in Myanmar, with explosive new testimony regarding the war crimes inflicted upon the Rohingya people. It follows three young refugee children, each of whom has lost everything in the flight, as they struggle to balance education, celebration, and survival."
Read more about Blossoms from Ash at the film's official website.
When We Band Together provides community centers for refugees stuck on the Greek island of Lesvos. Currently WWBT is running a sports and wellness center focused on sports, counseling, and mental health. Follow their work at WWBT.org.

More Press Releases and Announcements
Keep in touch!
We send weekly e-mail news updates to several thousand television and digital media content executives around the world. We encourage our clients, content partners, friends and colleagues to subscribe. Of course, you are also welcome to follow us on Twitter, Facebook, Youtube, Instagram and LinkedIn.
Sign up here!