Inspirational 9/11 Documentary Scheduled for Release on 20th Anniversary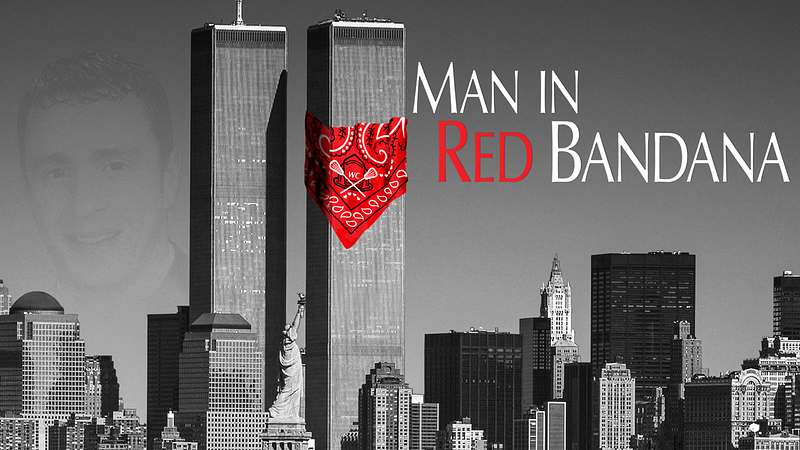 The 20th anniversary of 9/11 approaches. Janson Media today announced the availability of a new one-hour version of the 2017 feature-length documentary film, Man in Red Bandana. The edited-for-television 58-minute version is in post-production and will be ready for scheduling and delivery to platforms and broadcasters for 9/11 20th anniversary schedules this coming September.

The film tells the inspirational story of a true 9/11 American hero - Welles Remy Crowther. The young man worked on the 104th floor of the South Tower and saved at least ten people on September 11th. Tragically, Welles died that day, but his heroics became known eight months later as a result of an ordinary item - his signature red bandana.
The film re-traces the young man's courageous actions that fateful day, and examines the many people (family, friends and strangers) who have been inspired by Welles' actions and the unique ways in which they have honored him.
Man in Red Bandana is narrated by actress Gwyneth Paltrow. It was written and directed by Matthew Weiss, and produced by Chad A. Verdi (The Irishman) and Joshua Sason (Blackbird).
"They didn't know his name. They didn't know where he came from. But they knew their lives had been saved by the man in the red bandana." - President Barack Obama, speaking at the dedication of the 9/11 Museum
"Amidst the chaos, dread and sadness, there existed saint-like beings that put others before themselves. Welles' story and how it has achieved folklore-like status throughout the United States is one of hope and selflessness that instills faith in the human spirit." - Joshua Sason, Producer

"People see the fallen, beat-up world around them and ask: What can I do? Maybe: Be like Welles Crowther. Take your bandanna, change the world." - Peggy Noonan, Wall Street Journal

"His story has been told numerous times, but it is laid out in dramatically poignant detail in this new documentary." - Corey Kilgannon, New York Times

"In a time of great division and loud discord in our country, where so much separates us, the bandana exists, as does Welles' life and its final hour, as symbols of what might bind us together — in our caring for one another. I hope the red bandanna might exist as a red badge of courage for our time, as a reminder of the common fabric in our humanity." - Tom Rinaldi, Journalist and Author, The Red Bandanna, A Life, A Choice, A Legacy
Digital and television rights are available worldwide. Read more at the official website for the film.

Media executives interested in licensing the television special for broadcast of streaming rights should contact Stephen Janson at Janson Media. [steve@janson.com]
More Press Releases and Announcements
Keep in touch!
We send weekly e-mail news updates to several thousand television and digital media content executives around the world. We encourage our clients, content partners, friends and colleagues to subscribe. Of course, you are also welcome to follow us on Twitter, Facebook, Youtube, Instagram and LinkedIn.
Sign up here!