Janson Acquires Worldwide Rights to Award Winning Tibetan Language Film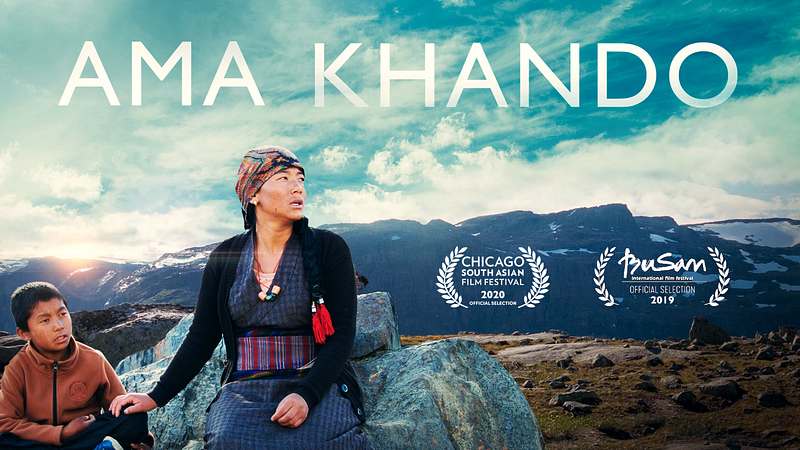 Janson Media today announced the acquisition of Ama Khando, the award-winning Tibetan language film from Nepali writer and director Dhondup Tsering. The film is an autobiographical retelling of a seminal event from Tsering's own childhood. A single-mother, treks across the rugged Himalayan mountains of Nepal, along with a family of winter-migrants, to give up her only son (Dhondup) to foster care.
In the remote, isolated Upper Mustang region of the Nepali Himalayas, we meet 26-year-old single mother Khando who, impoverished and illiterate, toils on other people's farms in exchange for buckwheat to feed her seven-year-old son, Dhondup. Due to her long working hours, Khando is forced to leave Dhondup unsupervised for much of the day, and the boy regularly bunks off school to roam the mountains — getting into mischief and gaining a reputation that exceeds his years.
Fearing Dhondup will end up uneducated like herself, Khando searches for a benefactor to give him a better upbringing. When the village monk finds a potential guardian in the city, Khando joins a family of winter migrants on the arduous trek to lower altitudes, to deliver her unsuspecting son to his new home. The journey is fraught with incident, as characters from a cross-section of the mountain community interact, differences surface and conflicts are negotiated. Each leg of the journey adds intrigue to the story as differences surface and conflicts have to be negotiated. Based on real-life experiences, the heart of the story is a young woman's struggle to give up her only family, even as every day takes her closer to the fateful moment when she must make that painful decision.
Filmed with quiet grace against spectacular backdrops, Ama Khando's themes of love, loss and identity simmer subtly beneath the surface.
The film stars Pema Dolker in the title role, and was produced by Prawin Takki Karki, and edited by Ali Rasheed. Cinematography by Manoj Kumar Pant and Rasheed.
Ama Khando premiered at the prestigious Busan International Film Festival in Busan, China, 2019. The film also screened at the Dharamshala International Film Festival that year, was an Official Selection at the Chicago South Asian Film Festival, and captured the Audience Award at the Kathmandu International Mountain Film Festival.
"A poignant journey of separation, resilience, love and identity," said Tibetscapes. The Nepali Times called it "A road movie where the characters are real."
"Ama Khando comes straight from the heart, because it is drawn from the life of my own mother. It is important for me because she is the only family I have in this world and, as she ages, I hope the film will keep her story alive," - said Dhondup Tsering, the film's writer and director.
Interview with the Director, Tibetscapes, December 14, 2020
The film is now available for rent or purchase on Amazon Prime Video globally. Janson Media is in discussions with several major digital platforms for SVOD and AVOD releases later this year.
More Press Releases and Announcements
Keep in touch!
We send weekly e-mail news updates to several thousand television and digital media content executives around the world. We encourage our clients, content partners, friends and colleagues to subscribe. Of course, you are also welcome to follow us on Twitter, Facebook, Youtube, Instagram and LinkedIn.
Sign up here!